Keel Roller Shaft Cap / Pal Nut, 5/8" Diameter. Sold As Each (Old Nem # 86301E)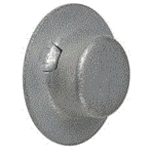 Keel Roller Shaft Cap / Pal Nut, 5/8" Diameter. Sold As Each (Old Nem # 86301E)
SKU: 10801
Pal Nuts are zinc plated and attach to the ends of the steel roller shafts to retain the roller within the roller brackets. 5/8" Pal Nuts fit 5/8" dia shafts.They are tapped onto the end of the shaft with a hammer. You will need 1 pal nut for each side of the shaft.
Replaced Nem / TPD 86301E
Sold as each, CE Smith brand
We're currently collecting product reviews for this item. In the meantime, here are some reviews from our past customers sharing their overall shopping experience.
95%
of customers that buy
from this merchant give
them a 4 or 5-Star rating.
September 23, 2020 by
Mr. M.
(CA, United States)
September 2, 2020 by
Brian R.
(IL, United States)