Kodiak Disc Brake Slip Over 10" Stainless Kit With Hub 1-Rcmh-10-Ss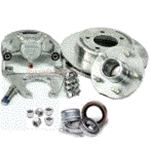 Kodiak Disc Brake Slip Over 10" Stainless Kit With Hub 1-Rcmh-10-Ss
SKU: 1-RCMH-10-SS
Kodiak Disc Brake Kit 10" 5-Lug 3500 lbs All Stainless Steel One Wheel"THE ONLY ALL"STAINLESS STEEL BRAKE"
Stainless Steel is the "Ultimate" available corrosive resistant material...Ideal for all Saltwater Applications!

Cap style (two piece) Galvanized hub and 10" (10 7/8" actual diameter) Stainless Steel rotor,
Includes all bearings and seals. Fits 5-lug wheels with 4 1/2" bolt circle and fits inside 14" and larger wheels..The Stainless Steel mounting bracket bolts to the 4 bolt brake flange on your axle. Stainless Steel caliper with 2-1/4" piston (stainless steel) is loaded with Ceramic Brake Pads that have Stainless Steel Clips for Extreme Performace, 50-100% longer life. Includes (2) Stainless Steel guide bolts with thread lock installed, and (2) brass bleeder ports.
EACH KIT INCLUDES:
1 - inner bearing-#L68149 [1-3/8"]
1 - outer bearing-#L44649 [1-1/16"]
1/2" wheel nuts, 60 degree cone
1-Grease seal
Mounting bracket bolts and nuts
Zinc Steel Grease cap.
One wheel assembly per box, Universal (left or right)
Kodiak Part # 1/HRCM-10-SS-KIT, Kodiak Disc Brake - Single Wheel Set - Cap Style Rotor - Stainless Steel with Galv Hub - 3,500 lbsDisc Brakes
More and more people are switching their trailers over to disc brakes, and with good reason. Disc brakes deliver consistent braking - even at highway speeds - unlike drum brakes, which often show a substantial drop in braking torque at higher speeds. In addition, disc brakes offer a substantially shorter stopping distance than drum brakes.
Disc brake calipers have only one moving part, rather than the many found in drum brakes. This means that there are fewer parts to maintain, fewer parts to get damaged and fewer parts to have to repair or replace, thus reducing maintenance costs.
Cap Style Rotor Assembly
The cap style rotor is made from Stainless Steel, matching SAE specifications. Stainlees Steel is ideal for high-temperature operations and offers a favorable friction coefficient to ensure adeqeeluate stopping power. Kodiak's rotors are vented to effectively dissipate heat, dramatically reducing the incidence of heat-related damage. Furthermore, machined disc brakes minimize the chance of contamination between the hub and rotor, resulting in excellent performance and long life.
Calipers
Kodiak calipers are constructed of Cast Stainless Steel to prevent flexing . Less flex means more braking torque, resulting in smooth, even braking every time. The corrosion-resistant stainless steel piston is 30 percent larger than standard pistons, ensuring shorter stopping distance and increased torque. In addition, the unique low-drag design of Kodiak's calipers allows the piston to retract farther than in most standard models, giving you a cooler-running brake.
Mounting Brackets
Designed for axles with 4-bolt brake flange configurations, the included mounting brackets are made of heavy-duty, corrosion-resistant Stainless Steel that is embossed to provide additional threading for guide bolts. The added thread strength ensures a tighter, more secure connection between the caliper and bracket. Another unique feature of Kodiak's brackets is the side-support angle, which guarantees that the load is carried by the bracket, rather than the bolts.
Kodiak Disc Brake Installation
We're currently collecting product reviews for this item. In the meantime, here are some reviews from our past customers sharing their overall shopping experience.
95%
of customers that buy
from this merchant give
them a 4 or 5-Star rating.
September 23, 2020 by
Mr. M.
(CA, United States)
September 2, 2020 by
Brian R.
(IL, United States)